Back before there was a FloridaPolitics.com and it was just me blogging at SaintPetersBlog.com, I would write a semi-regular screed about the Tampa Bay Times' political coverage. This was so long ago, the Times still had St. Petersburg in its masthead.
I gave up the "5 things I think I think…" column after a while because it got repetitive. (And because so many of my favorite writers — Howard Troxler, Eric Deggans, Michael Kruse —  left the newspaper). However, with 15 days left before the election, it's as good a time as any to check in on what the Times has to offer.
Unfortunately, it's not much. At least as far as the print product is concerned. There's some good and interesting stuff about national and state politics, but when it comes to the local scene, the pickings are slim.
There are only two Sundays left before Election Day and there isn't a story in the newspaper about the high-profile congressional race in the region (Republican David Jolly vs. Democrat Charlie Crist) or the high-profile state Senate race in the region (Republican Dana Young vs. Democrat Bob Buesing and independent Joe Redner). Nothing on any of the state House races, although most of them are snoozers. Nothing on the county commission race between Republican Mike Mikurak and Democrat Charlie Justice.
Like I said, not much.
No wonder Adam Smith has to write about how "the dreaded campaign yard sign appears to be less in demand this season."
Really, that's the best the political editor of the state's largest newspaper has to offer two weeks out from an election? Other than quotes from good guys Brian Burgess and Nick Hansen, this story is even sillier than you might think. It's as if because Smith doesn't see any yard signs in his tony Old Northeast neighborhood, there are no yard signs anywhere!
Smith blames The Case of the Missing Yard Signs on "most voters disliking the major presidential nominees too much to want to boast about their choice." But since when were presidential campaigns even known for having a strong yard sign program? It's the local campaigns, with their tighter budgets, which rely more on yard signs. And in Smith's St. Petersburg neighborhood there aren't as many competitive down-ballot races as there have been in recent election cycles.
Where Smith lives, there aren't bruising races for state Senate, state House, county commission, or school board as there were in 2012 and 2014. So maybe Smith's headline should have been "Adored by candidates, the dreaded campaign yard sign appears to be less in demand IN MY NEIGHBORHOOD."
Ah, the good ol' days of making fun of Adam Smith's work. It's 2013 all over again. No wonder yellow-bellied Adam won't participate in a post-election panel with me at the Tampa Tiger Bay club.
Actually, Smith has a must-read piece fronting the newspaper about Hillary Clinton's connections to the Sunshine State and his "Winner and Loser of the Week in Florida politics" (consultant Rick Wilson is the winner; Broward elections supervisor Brenda Snipes is the loser) is spot on.
Other thoughts about today's newspaper:
Months after both Jeb Bush and Marco Rubio were dispatched from the presidential election by Donald Trump, their names still sit atop the Times' website when you click on the 2016 CAMPAIGN under the POLITICS link.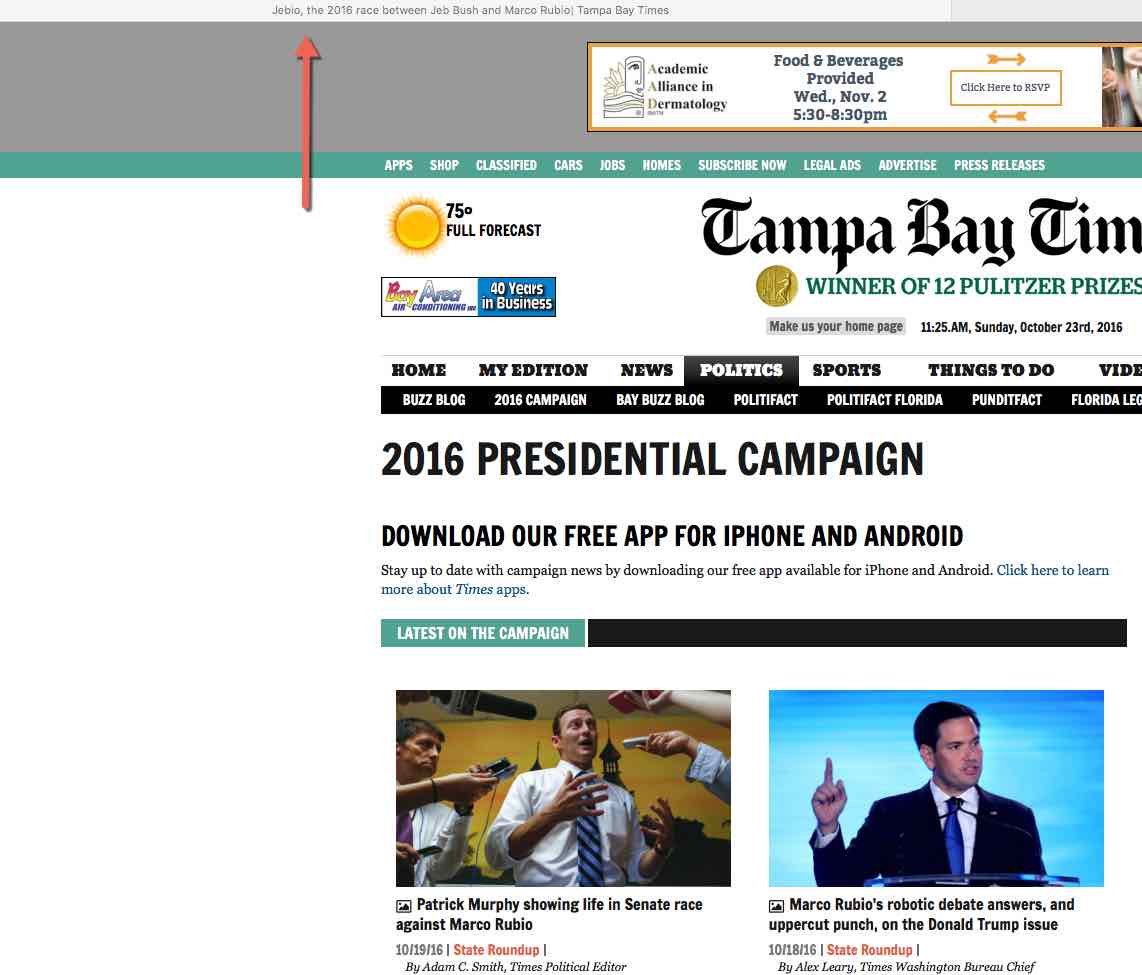 —
I agree with half of what John Romano tries to say about how "Rick Scott might have held the key to an outsider's successful bid to the White House" because the columnist echoes some of what I've recently written about Scott; namely that Scott is under-appreciated as a political force. But where Romano and I diverge is with his thesis that Trump should have relied on the same message-driven playbook that worked for Scott in 2010. To suggest this ignores The Donald aspect of Donald Trump, which is what has propelled him to where he is today.
With Trump, there's no way to separate the messenger from the message. This can be accomplished with Scott because he was a blank slate before he arrived on the political scene. Trump was already a brand.
Still, Romano's column is worth the read.
—
 The Times' final mission for the 2016 election cycle is to take down the utility industry-backed Amendment 1. The newspaper, of course, will write about Clinton vs. Trump and Marco Rubio's re-election campaign, but it can't influence those races. It can be a factor in whether Amendment 1 passes, so look for it to flood the zone — as it does today with not one, not two, but three Amendment 1 related punches, including this editorial.
—
Such good questions prompted by Charlie Frago's reporting of how the City of St. Petersburg "experienced the equivalent of an air-raid siren warning about its impending sewage crisis." Unfortunately, no one at City Hall is talking.
"I have no recollection of that event," says Bill Foster, the mayor at the time. … Council members who served at that time also had never heard of it.
Former public works administrator Mike Connors, who was there when the Albert Whitted plant was closed in 2015, has retired. Water resources director Steve Leavitt and engineering director Tom Gibson were placed on unpaid leave while the city investigates what happened to the 2014 report, which was brought to light by a whistleblower.
Gibson and Connors declined to comment. Leavitt could not be reached for comment.
Even if any of these people did comment, it would not answer this question: who tipped off Frago to the 10.5 million-gallon discharge in 2013?
—
Pay attention to Susan Taylor Martin's reporting about the 400 block of Central Avenue and whether it should be redeveloped into a residential property or into commercial space. Ten years from now, the 400 block could be the most important piece of non-waterfront property in the city, but only if the right decisions about its future are made now.
—
This was fun, critiquing the Times' political coverage. Maybe it's time to relaunch this series …