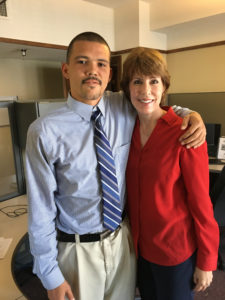 Gwen Graham's latest Workday focused on efforts to find affordable housing, workforce training and family reintegration for ex-offenders.
The newly announced Democratic candidate for governor worked Wednesday with Operation New Hope in Jacksonville.
"The ex-offenders I met today are working to put their lives back on track. They just want a second chance at becoming contributing members of their community — and Operation New Hope is giving them that chance," Graham said in a statement. "Operation New Hope serves as an example for reintegration programs throughout our state and nation. Jacksonville is fortunate to have such a great organization, and I am fortunate to have spent the day working with them."
As part of the Workday, the former North Florida congresswoman worked alongside Jarvis Guthrie, an ex-offender who now works with Operation New Hope as a recruitment coordinator. Guthrie spoke with Graham about the importance the program has had in his life.
"I am not a label of crime, but a product of second chances," Guthrie said.
Founded in 1999, Operation New Hope placed more than 2,500 ex-offenders back into the workforce. The organization helped to "break the cycle" for as many as 7,200 children of ex-offenders, who are more likely to become offenders themselves. Operation New Hope also helped to build or restore 80 homes.
"Gwen has proven through her leadership that she has concern and care for all of Floridians," said Kevin Gay, CEO and founder of Operation New Hope. "She understands Operation New Hope does more than help individuals — it's an investment in our entire state's future."