Perry Thurston Jr., now a state senator, has won the latest round in a court battle over state matching funds for his failed 2014 bid for Attorney General.
A unanimous three-judge panel of the 4th District Court of Appeal in West Palm Beach Wednesday reversed a decision by the state's Division of Elections, under Gov. Rick Scott, to deny Thurston matching funds for that race.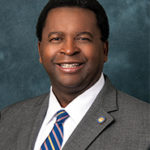 Thurston, a former House Democratic Leader who was term limited in 2014, lost that year's primary to George Sheldon, who lost to incumbent Republican Attorney General Pam Bondi in the general election.
Thurston, a Fort Lauderdale Democrat, was elected to the Florida Senate last year.
For the attorney general's race, Thurston had applied for state matching funds from the Election Campaign Financing Trust Fund, according to the opinion by Chief Judge Cory J. Ciklin and Judges Spencer D. Levine and Alan O. Forst.
"The Division rejected some of the documents—photocopies of checks—because necessary information contained on the face of the documents could not be read," it said.
After his primary loss, he "submitted new, legible photocopies of the required documents, which the Division declined to review."
Because state law "and administrative rules do not impose a deadline on curing defective paperwork submitted prior to a primary election in support of a request for matching funds, we reverse and remand," the opinion said.
The state now must "determine whether Thurston met the threshold for distribution of matching funds. If so, the Division shall distribute the funds."
Otherwise, it "would subvert the purpose of the (matching funds program) to permit the Division to refuse to determine whether the candidate met the threshold," according to the opinion.
"We are reviewing it," said Meredith M. Beatrice, spokeswoman for the division.