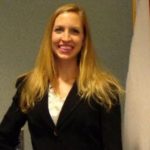 Elle Rudisill, an assistant state attorney for the 6th Judicial Circuit in Pinellas/Pasco county since the fall of 2014, announced Thursday that she will for the House District 37 seat in Pasco County to be vacated by term-limited Richard Corcoran in 2018.
"Today, I embark on an incredible journey of running as a Conservative Republican candidate for the Florida House of Representatives," Rudisill said in a statement. "My first year in college, I decided I wanted to make a difference in the world around me and have been striving to make that difference every day that I can. Back then, I jumped head first into volunteering for grassroots and national campaigns, and I still volunteer to this day.
"For the past few years, I have had the privilege of serving as a Prosecutor right here in Pasco. Now is my chance to make even more of a positive impact for my hometown of Land O' Lakes and Central Pasco County. Growing small businesses, educating all of our youth, and protecting Pasco will be my aim in Tallahassee."
A 2009 University of South Florida graduate, Rudisill continued to get her J.D. from the Stetson University College of Law in 2013. Before going to the 6th Judicial Circuit, Rudisill worked as a legislative analyst for the Florida House of Representatives.