Susan Ledford wasn't an immediately recognizable name from the Tallahassee Democrat's newsroom.
Unlike Gerald Ensley or Bill Cotterell, she didn't ride on parade floats or get to be known by governors and lawmakers.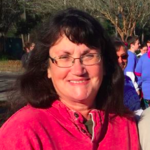 But for nearly three decades, Ledford helped make the trains run on time, night after night.
Ledford — who's been a copy editor, page designer, production planner, and numerous other titles over her 28 years — was given the proverbial ax this week, just one casualty of Democrat owner Gannett Co.'s decision to trim its workforce by 2 percent.
The move, which should result in 350 positions being eliminated, came as the company plans to acquire Tronc, formerly known as Tribune Publishing, and its nine newspapers, including Florida's Orlando Sentinel and Sun Sentinel.
Ledford's layoff, the only one in the building this week, was first confirmed by multiple current and former employees of the Democrat.
She declined to be interviewed Thursday afternoon. Democrat editor William Hatfield referred questions to publisher Skip Foster, who respectfully declined comment.
The Tronc deal was put on hold, however, after Gannett on Thursday reported a third-quarter loss of $24 million, though revenues were better than expected at $772 million. The company's stock price was $8.64 midday Thursday, down from around $17 a few months ago.
Ledford "was the go-to person for chocolate candy and coffee; she always had those at her desk," said Susan DeGrange Ray, a longtime co-worker on the night desk who now works in communications in Tallahassee. "And she always managed to stay unruffled in situations where I would have used the F-word."
Mark Hohmeister, another mainstay on the night desk who's now at The Florida Bar, recalled how Ledford — a cat lover — would feed the feral "Demo-cats" that roamed outside the newspaper's building, even trapping some and paying to get them fixed.
Some were known by name, including Inky and Mr. Whiskers, the first and perhaps most famous who came to be adored and — given the newsroom's contingent of cat-dislikers — despised in equal shares.
"I cannot imagine that newsroom without her," Hohmeister said.
"She had great news judgment in knowing how to play a story," he added, using industry lingo describing which stories go where on a newspaper's pages. "I really grew to love her and trust her."
Kati Schardl, the paper's music and features writer from 1997-2012, said Ledford was a "generous" editor and patient even as deadline loomed.
"She really helped newbies, including me, figure out what we were doing," she said. "She was calm and understanding in the face of a new reporter's nerves and panics."
By late afternoon, CNBC was reporting that "Tronc and Gannett shares (had) plummeted in afternoon trading after Bloomberg reported that the banks financing the potential deal between the two companies have pulled out."
Gannett was trading at $8.21 per share by 3:45 p.m.