A lawyer for the widow of a Florida man "addict(ed) to cigarettes" asked the state Supreme Court Monday to reinstate her $30 million jury award for punitive damages.
Tallahassee attorney John S. Mills, who represents Joan Schoeff, told the court the conduct of R.J. Reynolds Tobacco Co.(RJR)—in selling a product they knew was killing 500,000 people a year—stopped just short of "intentional genocide."
Mills called RJR "the worst of the worst," saying the cigarette maker was aware their customers "were going to die and continued (selling cigarettes) to make money."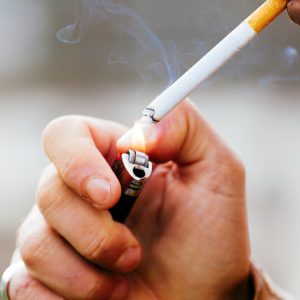 The suit is one of many Engle progeny cases in which the court, after a monumental 1994 class action, allowed individual smokers with claims against tobacco companies to each sue for their own damages.
The case is being closely watched by the state's trial attorneys.
State Sen. Gary Farmer, a Fort Lauderdale Democrat and longtime civil-trial lawyer, had filed a friend-of-the-court brief for the Florida Justice Association, formerly known as the Academy of Florida Trial Lawyers.
At trial, a jury found smoker James E. Schoeff 25 percent at fault in his death, "from lung cancer caused by his addiction to cigarettes," according to court documents.
Jurors awarded his wife, Joan Schoeff, $10.5 million in compensatory damages and $30 million in punitive damages, even after her lawyer asked jurors not to go above $25 million.
The trial judge later reduced the compensatory damages award to almost $7.9 million but let stand the punitive damages amount. R.J. Reynolds appealed, calling the punitive damages "unconstitutionally excessive."
The 4th District Court of Appeal in West Palm Beach agreed with RJR that the award "falls on the excessive side of the spectrum," according to its opinion. One judge in the three-judge panel dissented. Schoeff then appealed to the Supreme Court.
Justice Peggy A. Quince noted that the lawyer at trial asked for Schoeff's fault in his death to be factored into damages. Mills explained that was because "we didn't know if we were going to win."
Donald B. Ayer, representing RJR, faulted jury instructions that he said confused jurors about how to decide the harm caused to Schoeff. 
"Why would we, as a matter of law, decide that the core of the action is negligence versus … the intentional wrongdoing of the tobacco industry over decades?" Justice Barbara Pariente asked.
"There's no question that it's harm from a product," Ayer said. Product liability claims generally are founded in negligence, which is about carelessness, not intent.
The court, as usual, did not indicate when it would rule.