Orlando financial consultant Chris King may still be a few days from formally kicking off his candidacy as a Democrat for governor of Florida, but after a few silent weeks, he's beginning to step out, first with the hirings of some key staffers, now with some tweets.
Word of King's candidacy began circulating in February and on March 3 he filed his candidacy paperwork. But except for a brief statement issued that day, he's been publicly silent.
On Thursday word got out about his campaign's hiring of several key staffers, including Charlie Crist's 2014 gubernatorial campaign manager Omar Khan and several other Barack Obama campaign alumni, Jeremy Bird, Hari Sevugan, Larry Girsolano and Isaac Baker.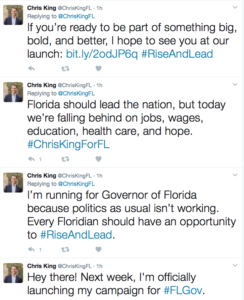 Now, for the first time, King's trying his hand at Twitter, debuting with four tweets Thursday afternoon introducing his campaign.
"I'm running for Governor of Florida because politics as usual isn't working." declared one tweet. "Florida should lead the nation, but today we're falling behind on jobs, wages, education, health care, and hope." said another.
King hasn't been much for social media until now. Four tweets are more activity than his Facebook page has seen since he opened it last summer. It has two posts.
King, 38, and Democratic Tallahassee Mayor Andrew Gillum are the only two formal candidates thus far in the 2018 contest to succeed term-limted Republican Gov. Rick Scott.
While Florida Agriculture Commissioner may be mainly clearing the deck before announcing his anticipated run for the Republican nomination, the Democratic field is likely to get more crowded, with former U.S. Rep. Gwen Graham, Miami Beach Mayor Phil Levine, and Orlando attorney John Morgan all openly exploring possible runs.